Emmanuel Episcopal Church will be in recovery from the flood for probably at least a year.
http://www.emmanuel-houston.org/recovery

On Oct 2nd the meeting moved to
Memorial Dr United Methodist Church
12955 Memorial Drive
Houston, TX 77079
The meeting is now in C-201.  This is on the second floor of the west side of the main campus.  Enter the Church in the Southeast entrance (SW door closes at 6:00 pm).  Enter the building and make the 2nd left.  Walk to the second set of stair on your left.  C-201 is at the top of the stairs.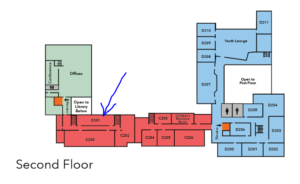 The meeting will be at the same time of 7 pm on Mondays.